ABeam Consulting Prequel

*This article is based on the interview conducted in February 2014; some details may differ at present.
Relocating to 3,000 tsubo (approx. 9,900㎡/106,750ft²) Office in Just Four Months: A Project Producing Many Benefits
ABeam Consulting Ltd. is a leading Japan-based global consulting firm, which has steadily expanded its business since its founding in 1981. In August 2013, it finished integrating five offices in different parts of Tokyo into a single office. For this case study, we spoke to two employees from the general affairs department who were members of the relocation project team.

Koki Tsuda
Manager, General Affairs Department
ABeam Consulting
Mika Kawabata
General Affairs Department
ABeam Consulting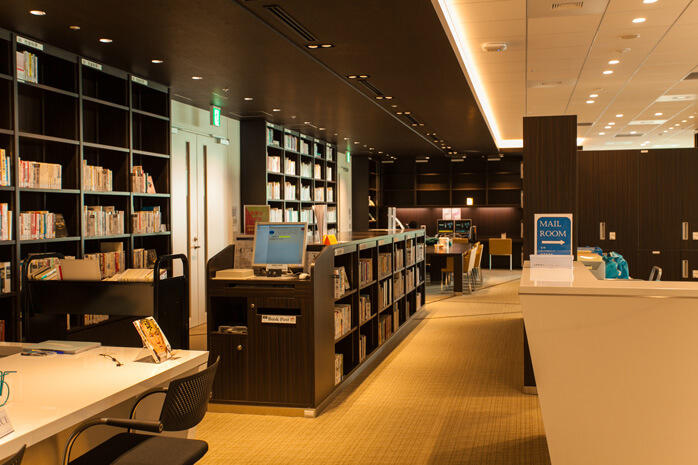 Brief Memo
With five offices in different parts of Tokyo, communication was inconvenient.
The relocation date was set--then the details were decided one by one in light of the chosen date.
General information about the relocation was relayed to employees through an internal e-magazine.
The new office has many features devised to encourage spontaneous communication.
One year on, the relocation has produced many benefits.
Inconvenience of communication felt with five offices in different parts of Tokyo
Koki Tsuda: "Before the move, we had a 3,000 tsubo (approx. 9,900m2/106,750ft2) office that served as our headquarters in a building next to Yurakucho Station. In addition to that, we had separate offices in nearby Hibiya and Kachidoki. While the operations were conducted at each office according to the business department, the reality was that communication was inconvenient."
The separate offices were integrated into a single location, with the expectation that this would lead to improved communication.
Tsuda: "Naturally, since we were integrating our offices, we expected that our floor space would shrink as a result and that our running costs would decrease at the same time, but our biggest expectation for the relocation was that it would lead to faster communication."
Mika Kawabata: "When there was actually a need to hold a meeting in person, it felt like the time spent going to the meeting location was wasted. If we were meeting with the operations department located in the building in Kachidoki, we had to go there by bus. That was the shortest way by public transport, but it still took some 30 minutes. Similarly, it took about a ten-minute walk to Yurakucho from the Hibiya office."
Kawabata: "What's more, in cases where we couldn't meet in person, we had to communicate by phone or email. And, of course, when you can't look the listener in the face when you're talking to them, it changes the way you communicate. No matter how much IT such as remote conferencing systems advances, I don't think it will ever beat face-to-face communication."
Relocation date set--then details decided one by one in light of the chosen date
Despite the fact that it was an ambitious relocation plan, the preparations were not done gradually over time. This was a rare case where a detailed relocation schedule was put together only after the new building and relocation date had been decided.
Tsuda: "There was a plan all along to redevelop the area where our old office was located, so we thought we would have to relocate at some point. However, we didn't consider moving to a different area. We were, therefore, waiting to find a building where we could obtain a large amount of floor space in the vicinity of our Yurakucho headquarters. Then, we obtained timely information about the completion of a brand-new building and went to visit it right away. Senior management decided that we should begin considering moving to this building in August 2013."
Kawabata: "This was in December 2012. The relocation could not yet be announced to employees, as well as to people outside the company. Behind the scenes, we were soon calculating relocation expenses, making provisional calculations of running costs, managing assets, and so forth."
By January 2013, the numbers had been tallied, and in February, a specific plan of action was drawn up through the company's internal procedures, and members were chosen from each business division to review it. Preparations for relocation got underway at high speed.
Tsuda: "We started for real in March, with the aim of moving at the start of August. We were faced with the situation of completing a major relocation of a 3,000 tsubo (approx. 9,900m2/106,750ft2) office in just a little over four months--and the date couldn't be pushed back."
As a first step, they set to work listing what they needed for the office and issues to be addressed. To achieve this, the relocation project members held regular meetings focused on brainstorming. The ideas put forward would then be reported and discussed at follow-up meetings. This process enabled them to gather opinions and ideas from employees of all levels, regardless of rank.
Then, even though some details were still unclear, a proposal was put together that took the employees' into account.
Tsuda: "Looking over it again, the word 'communication' appears a lot. In the case of our company, a lot of work is project-based, which means teamwork is extremely important. For that reason alone, we needed an office structure that would enable everyone to optimally leverage the strength of the team."
In early April, a request was made to submit a layout plan based on the prepared proposal.
Tsuda: "For this, we had four design companies submit bids. Luckily, each company's bid was similar in terms of cost, so we were able to judge them based simply on the strength of the design. The general affairs department obtained opinions about each company's bid from the members involved in reviewing the submissions and provisionally tallied up their preferences. Management then made a final decision. After that, we conducted a detailed review with the chosen company."
Tsuda: "Since work such as installing automatic doors, the air-conditioning system, and the like would take time, we had to make quick decisions about those. On the other hand, in the case of furniture and fixtures, as long we were sure they would be in stock, we could remain on schedule even if we chose them right before the deadline. The first thing we had to do was clarify the order of priority, since that affected the entire schedule."
Kawabata: "After deciding on the design company, all the companies involved met for general meetings on a weekly basis. As a rule, all general affairs department members attended. Besides them, close to 30 people all told would gather every week, including representatives of the design company commissioned to manage the project, the construction company, a firm specializing in security, and so on."
General meetings were held through July, until right before the move. The construction work was then finished on time without any problems.
Basic relocation information relayed to employees through internal e-magazine
Given the scale of the relocation plan, which would consolidate all offices in the Tokyo area, it was necessary for the general affairs department to report to employees about the plan's progress. This task was performed by Eiraku News, an in-house e-magazine.
Kawabata: "The e-magazine was distributed once a month. The original idea for it came from a colleague's suggestion. We wrote articles accompanied by lots of photos, about topics such as the new meeting room reservation system we were planning to introduce, the digital signage to be set up in various offices, the expanded library, and so on. What's more, we devised ways to make it more reader-friendly, such as using informal language for the articles. As a result, it seemed that quite a lot of people enjoyed reading it."
New office with many features to encourage spontaneous communication
The new office has a floor space of around 3,000 tsubos (approx. 9,900m2/106,750ft2), compared to a total of about 5,000 tsubos (approx. 16,500m2/177.900ft2) for the offices before the relocation. That might seem like quite a reduction in space--but in reality, it was not. Previously, there was a lot of wasted space that was not being used, so the move provided an ideal opportunity to optimize the office space. The current location is on the 24th to 26th floors, and the layout of each floor offers plenty of room.
Key points of the new office are as follows.
The 24th floor is equipped with the reception area, back office, project rooms, and conference rooms. In the area for meeting with visitors, there are a total of 15 rooms ranging from small to large. All rooms for internal meetings are equipped with projectors--an added feature of the new office.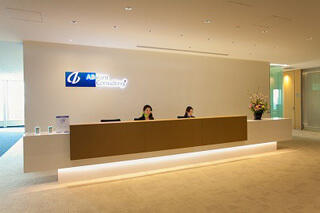 Reception Area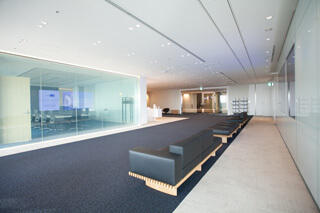 On the left is a presentation room
Tsuda: "Many notes and drawings are made during meetings with consultants. I mean, there are really a lot. For that reason, we abandoned the whiteboards we had been using before and switched to using entire walls for writing on."
Tsuda: "The meeting rooms are occupied extremely often, to the point where we don't have enough of them. The meeting rooms used most frequently are those for groups of eight to ten people."
Another benefit of the new office was the introduction of a meeting room reservation system. This made it possible to use meeting rooms more efficiently.
Kawabata: "The reservation system is linked to Outlook, so it's easy for anyone to make use of it. Once a reservation is made with Outlook, the name of the meeting and the person who made the reservation are displayed in front of the meeting room. If the start button is not pressed by the scheduled time, the reservation will be canceled after 15 minutes. In the old office, we often saw cases where rooms were provisionally booked but the meeting did not start at the scheduled time, so we revamped the system."
Tsuda: "When we analyzed the use of meeting rooms, we found that the room was not actually used for around 20% of reservations. That has been eliminated and we're now able to use meeting rooms more efficiently. The response from employees has been positive."
The 25th floor houses a work area and training center. Many consultants are located on this floor.
Tsuda: "The work area has been laid out with a view to using the space efficiently. Basically, it's a hot-desking area, given that our consultants often work outside at clients' offices. There are also assigned desks for personnel who handle after-sales tasks such as systems maintenance and operation for clients."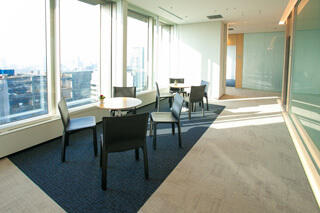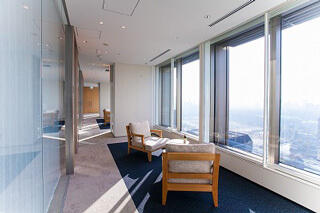 Meeting area beside reception. With its excellent view, this is becoming a popular spot.
Kawabata: "In terms of changes to the environment surrounding people's desks, the partitions have been removed. Since communication was the focus of the new office, we wanted to make it as open as possible. So we went ahead and removed all the partitions. People have told us that it's now easier to speak to colleagues, since you can see all around from where you're sitting."
Tsuda: "In addition, we've eliminated garbage cans inside the work area. In the past, there were quite a lot of garbage cans placed near individual desks, but now there are just two on each floor. What we're hoping is that the circulation of people going back and forth to dispose of garbage will generate new communication opportunities."
Employees say the new layout has given them a renewed sense of the importance of spontaneous communication. The 26th floor, meanwhile, houses an office area and communication space. When you exit the elevator onto the 26th floor, the office area is on the right. Within this area are hot desks for consultants as well as private offices of executives and department heads.
Kawabata: "We have set up meeting spaces for small groups in places which have a nice view out the window. These are suitable if it's just a low-key meeting, and you don't have to reserve a room."
Meanwhile, there is a communication space on the left side of the floor, equipped with a library and service counter.
Tsuda: "This is an area that has been greatly improved. Consultants constantly have to obtain information and knowledge--and the library brings all that information together in one place. Books and the like purchased by individuals or departments are stored in the library and available for consultation. There are various books and materials, including printed texts, CD-ROMs, and so on. At the present time, there are 7,000 titles in the collection."
Kawabata: "At the same time that we set up the library, we also introduced a check out system. The procedure is simple: all you have to do is present your employee ID at the counter. And using a computer, it's possible to search for and reserve materials 24 hours a day. In terms of management, we have contracted out the library's daily operations to a specialist."
Kawabata: "There's also a service counter in the communication space. It's kind of like our company's concierge. You can take care of everything here: obtain computer assistance from the help desk, pick up or drop off mail or documents, make inquiries to general affairs, arrange to get stationery, and so on."
Next to the library, a communication space has been set up that's available for use round the clock. It could be used to hold a meeting, or to read documents on one's own. It's an interactive space that's also used as a dining spot by staff at lunchtime.
Kawabata: "Compared to the old office area, the number of restaurants for lunch is limited. And if you go out for lunch, it overlaps with the lunch rush for people from other companies. In view of how crowded it gets at lunchtime, we're now selling lunch boxes in the office every day. Employees can eat them in this space. Quite a lot of people are using the lunch box service--we sell out about 200 meals a day."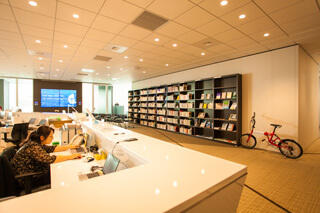 The service counter on the 26th floor that handles various procedures. It performs the role of a concierge.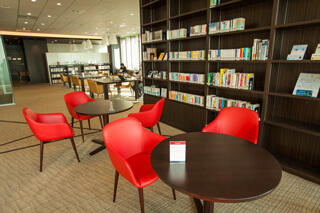 The communication space is visited by many employees every day.
One year on, the relocation has produced many benefits
Almost one year has passed since the relocation. During that time, a number of benefits have been felt.
Tsuda: "Thanks to the integration of the offices into a single building, employees are now able to see each other more frequently. There's no question that communication has increased. That's because employees are now meeting in person, even if it's just a quick word of greeting. It's a simple thing, but that's the point that has been most noticeable after the relocation."
Kawabata: "Previously, because the offices were separated, there were definitely people that I knew by name but not by face. Since the integration, that's no longer the case."
Kawabata: "What's more, if you're in separate places, actions have to be taken through e-mail or by phone, and no matter what you do, everything is slowed down a step. From that standpoint, I think our use of time has become more efficient now."
Besides the above, the new office is also generating significant advantages thanks to its location.
Tsuda: "Access to public transportation has improved greatly. Since our employees often travel on business, being close to a bullet train station is convenient. And if they're going to a customer's site, they have access to many different train lines at JR Tokyo Station, so the new location is convenient wherever they happen to be going. What's more, moving to Marunouchi, which is Japan's leading office district, I think the new location will also have a positive effect in terms of our future recruiting activities."
The new location has seen a change not just in terms of going to visit customers but also when it comes to the number of people visiting the office. Many visitors have been informally invited to drop by the office, perhaps because employees have a desire to show the improved location to customers. The relocation has also apparently led to increased employee motivation.
Kawabata: "There's been a major change in the attitude of employees as well. It seems to me that more people than ever before are aware of the dress code and paying attention to their appearance. It's not like anyone told them to do that--it's purely voluntary on their part. They look around them--at the atmosphere of the Marunouchi district, the people working at nearby companies, the behavior of their coworkers--and it makes them want to dress more smartly as well. I think that's important."
Tsuda: "We relocated to an area with a high concentration of high-grade buildings typical of Japan. The rent's not cheap, of course--but there have been many benefits, and I can confidently say that the relocation has been a success."