Tokyo Tokiwabashi Tower-A
Tokyo Tokiwabashi Tower-A
*This article is based on the interview conducted in October 2019; some details may differ at the present time.
Creating an Environment for Workers to Excel with Two Service Floors and a 7,000-㎡ Plaza Featuring Abundant Greenery

Daisuke Miyanouchi

Senior Manager
Tokiwabashi Development Department, Strategic Development Office
Office Leasing and Tenant Relations Department
MITSUBISHI ESTATE CO., LTD.

Rio Ushio

Tokiwabashi Development Department
Strategic Development Office
MITSUBISHI ESTATE CO., LTD.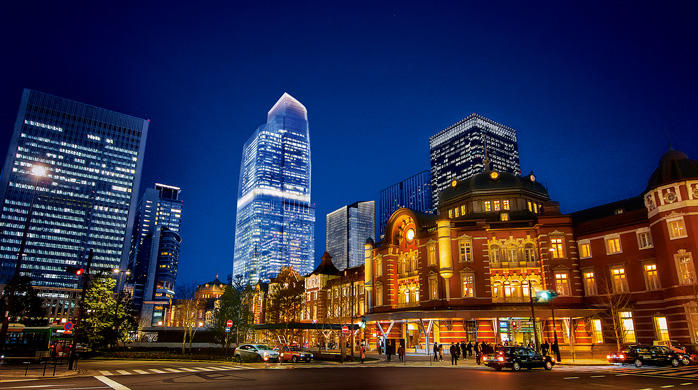 Tokyo Tokiwabashi Tower-A Image / Mitsubishi Jisho Sekkei Inc.
Upgrading the Functions of Essential Urban Infrastructure Succeeding the City's Heritage
Tokiwabashi is a bridge spanning the Nihonbashi River running between Otemachi in Chiyoda Ward and Nihonbashi-Hongokucho in Chuo Ward. During its heyday, it flourished as a gateway to Edo Castle. Today, it's the site of a large-scale redevelopment, the Tokyo Station Tokiwabashi Project.
The area under development is part of the JR Tokyo Station Nihonbashi Exit district. It also offers convenient access to the Tokyo Metro stations of Otemachi, Mitsukoshimae, and Nihonbashi, which are all within walking distance.
The project, which is being developed by Mitsubishi Estate, one of the most famous real estate companies in Japan, and comprises the following: two large-scale mixed-use buildings, Tower-A and B; an underground substation, Building C; a sewage pump facility, Tower-D; a large plaza; and Tokiwabashi Park (building names are provisional). One feature of this project is that the work will be carried out in stages while enhancing the functions of key urban infrastructure such as the substation and sewage pump facility. Tower-A is scheduled for completion at the end of June 2021. Once complete, it will have 5 underground floors and 38 aboveground floors, with an average of 780 tsubo (2,578㎡) of column-free space per floor.
Japanese-Influenced Design and Spacious Station-Front Plaza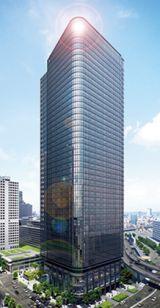 Mitsubishi Jisho Sekkei Inc.
In terms of appearance, Tower-A is based on the concept of succeeding the area's heritage while looking ahead to the next generation. Its outer form is that of a blade carving open a path to the future. The design incorporates layers and lattices as accents that evoke Japanese history and tradition. Meanwhile, the office entrance will feature materials with wood-grain textures and walls with a shoji (paper sliding door) motif that reflect soft light, providing a relaxed, informal atmosphere.

In addition, 7,000㎡ of the plaza will be set up on the site. This will be the first project in the Tokyo Station area to include such a vast open space. Around 3,000㎡ will be developed first to coincide with the completion of Tower-A. With multiple lawns, cherry trees, and other greenery, the plaza will offer a pleasant outdoor environment buzzing with activity every day where people can enjoy taking a break. It will also serve as a center for disaster recovery activities, providing a space to accommodate people stranded by disrupted transit services.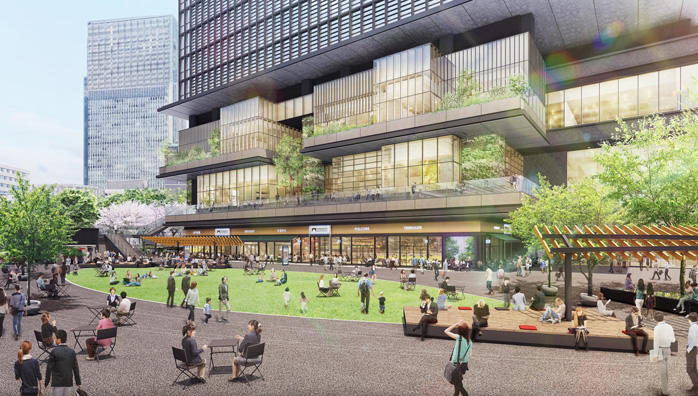 Plaza & Park planned to be completed in 2021 /Mitsubishi Jisho Sekkei Inc.
Prioritizing Worker's Safety with Advanced Vibration-Damping Design
Tower-A will have around 23,000 tsubo (76,033㎡) of floor area for lease and is expected to have 8,000 people working in it. Its design prioritizes business continuity planning (BCP) and ensures a high level of safety in the event of a disaster. Seismic damping is ensured through the use of a viscous damping system that is effective for the high-ceilinged lower floors. The building will also be equipped with mass damper technology, which has a damping effect even for long-period ground motion. These systems will suppress vibrations in the event of strong winds or earthquakes. Emergency power generation will be provided by two 3,000-kVA generators located inside the building, one of which may be operated using medium-pressure gas. As long as there is a supply of gas, it will continue running for about 10 days. If the gas is cut off, the generation shall be switched to fuel oil stored on the premises for 72 hours. Mitsubishi Estate has also set a goal of "establishing a position as a leading company in terms of ESG (Environment, Social, Governance)." It has issued green bonds for the Tokiwabashi Project to convey its strong belief in sustainable development based on international environmental indices. It was the first general real estate developer in Japan to issue such bonds.
Development Inspired by the Concept of "People Working. Passion Rising."
Various aspects of this development project incorporate the practical results of the work-style reform implemented when Mitsubishi Estate relocated its headquarters and the expertise gained as a result. The development concept for Tower-A is "People working. Passion rising." In order to create a new working paradigm, Tower-A is equipped with service areas for people working in the building on the 3rd and 8th floors. The 3rd floor houses a cafeteria, where dining serves as a means of bringing people together. It offers both an appealing menu and spaces for relaxed conversation. The 8th-floor facilities are divided into four categories, such as lounges and conference rooms, which support a variety of business activities.
Furthermore, there is an event space equipped with kitchen facilities, for which various uses are being considered, including food education events, regional revitalization activities, and networking activities to build connections between companies.
Mitsubishi Estate will also leverage the expertise it has acquired to date to pursue urban development that further enhances the appeal of the Tokyo Station area in new ways.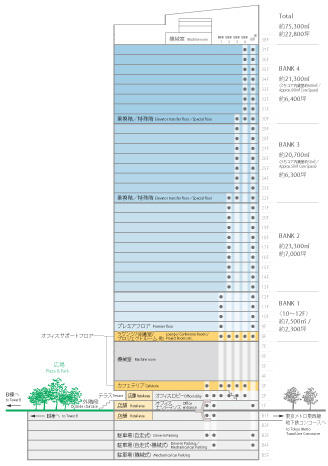 Building Plan / Mitsubishi Jisho Sekkei Inc.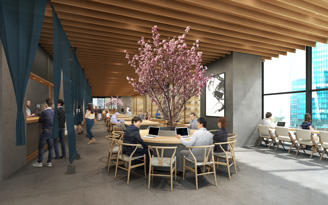 Cafe Event Zone / Mitsubishi Jisho Sekkei Inc.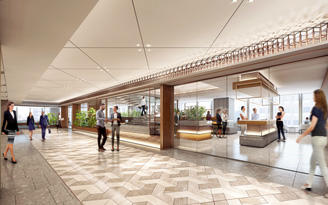 Workers Lounge / Mitsubishi Jisho Sekkei Inc.