WeWork Japan
*This article is based on the interview conducted in September 2018; some details may differ at the present time.
From Shared Spaces to Community Spaces: WeWork's Office Revolution
WeWork was founded in New York in 2010. Over a period of just eight years, it has expanded its business to 287 locations in 23 countries around the world, with a total membership of over 260,000 (as of August 2018). With a market value of 20 billion dollars (approximately 2.24 trillion yen), it is drawing global attention as one of the U.S.'s leading "unicorn companies." In February 2018, it opened its first Japanese office in Roppongi (Minato Ward). It is aiming to open another 10 to 12 locations in Japan alone within 2018. We spoke to the general manager of WeWork's fast-growing Japanese division, Masami Takahashi, about the company's policies, future plans, and expansion into Japan. (Interview conducted by phone on September 3, 2018.)

Masami Takahashi
General Manager
WeWork Japan
A Company Established to Create Dynamic American-Style Communities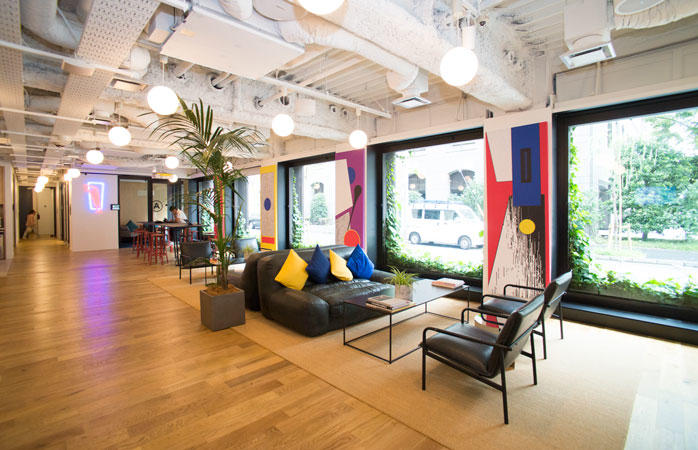 WeWork began operations in February 2010, opening its first office in New York City's Soho district that same year. In contrast to the popular expression "Thank God it's Friday," WeWork's motto is "Thank God it's Monday." In other words, its goal is to make Monday seem like the start of a rewarding week rather than a day when people feel down about going back to work after the weekend. In keeping with its mission of "creating a world where people work to make a life, not just a living," it strives to provide workplaces where people can truly enjoy what they do and feel excited about it.
Initially, most members (i.e., companies leasing space) were start-ups or freelance operators. WeWork provided an optimal solution for small businesses and supported start-ups by minimizing the cost of their operations. Recently, however, it is remarkable that a number of large companies are using its services. This is a testament to the fact that these companies are gaining unexpected benefits from interacting with a new generation of workers and gaining exposure to fields with which they had no prior contact.
Over eight years, WeWork has achieved rapid growth. One factor for this is that it tapped into the global movement toward more dynamic communities ahead of others. For many WeWork members, the opportunity to grow their personal networks is part of its appeal.
This is a common area at WeWork Shimbashi. It occupies a location by the windows with ample sunlight. The space's striking creative design makes users feel like they're over at a friend's house having a relaxed conversation. There are other common areas available as well for various purposes. These encourage spontaneous communication among tenants.
On the left side of this area, there is a desk known as a "community bar" that serves as a reception desk. It's staffed by a community manager whose goal is to promote collaboration between members.
Flexible Contracts Facilitate Agile Operations
There are as many ways of using WeWork's facilities as there are users. With the aim of providing an environment that accommodates diverse working styles, the company's workspaces are equipped with all functions that users might need. The main plans and associated fees are summarized below.
Plan Name

Service Details

Main Users

Minimum Monthly Fee

Custom-built Office

Customized to suit the member's preferences. WeWork handles everything from designing the ideal space to managing the office.

Companies with 50-500 employees seeking fully equipped space and flexible occupancy.

Negotiable

Private Office

A private office is provided according to the number of people on the team, along with desks, chairs, filing cabinets, etc. Able to accommodate moves at short notice.

Tenants with 1-100 employees who want to have their own separate space within the community.

Negotiable

Dedicated Desk

A dedicated desk is provided within a shared space, enabling work to be done at the same desk at all times.

For tenants who will use the space every day for the purpose of collaboration.

Negotiable

Hot Desk

A workspace is provided in the common area. Members can work there by bringing a laptop and choosing an available space.

For users who will use the space for 1 week or more per month.

72,000 yen/month


(in the case of Ark Hills South)
*as of Sep.2018

There are other amenities provided to support the smooth operation of the members' business. Those listed below are just a small sampling. These services are of course included in the monthly cost.
・High-speed Internet ・Business printer ・Office supplies ・Phone booth
・Mail and courier service (excluding hot desk plan)
・Global community network ・Events of various kinds (social, educational, etc.)
・24-hour access to building ・Reception desk service ・Daily cleaning service
・Micro-roasted coffee, black tea, and green tea ・Craft beer on tap
Along with the above, WeWork offers two advantages not found at other companies, which combine digital and real-world support.
Ever since its founding, WeWork has collected meta-data on how members are using its space at many locations in various regions. Examples include data on the usage rate of meeting rooms at different times of day, data on the use of various consumables, and data on stay time by area. Gathered using specialized software developed by WeWork itself, this information is analyzed to identify office needs, then used to create better office environments in the future.
Over many years of managing offices, it has also accumulated data such as information on the ideal hallway and corridor width for promoting interaction between members, the optimal pantry location, and suitable desk types and sizes, all of which are reflected in WeWork's office designs. Data-based office design is therefore one of the company's strengths.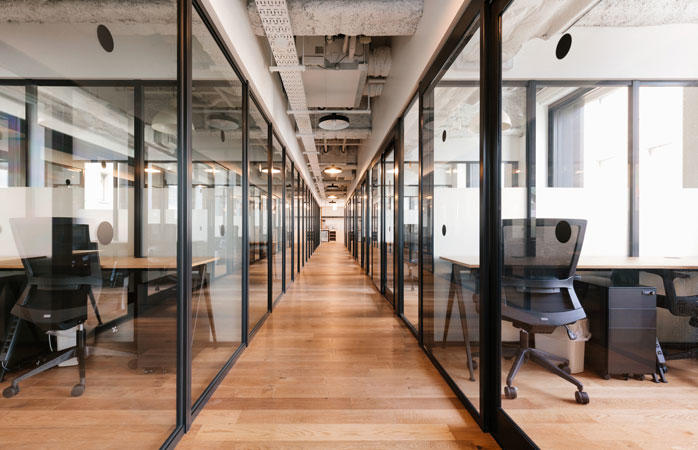 Hallway in Office (WeWork Shimbashi)
At the same time, on a more personal, face-to-face level, it is supporting users with concrete efforts to promote collaboration among business operators. This is the biggest advantage of WeWork. These efforts are carried out by community teams at each location. There is a diverse program of frequently held events and presentations designed to promote collaboration. Besides these major events, WeWork pays careful attention to fostering regular interaction among members in shared spaces or at cafe counters. Since its founding, the company has striven to make the training of community managers--who are always acquiring information about members' business, attributes, problems, etc.--a priority.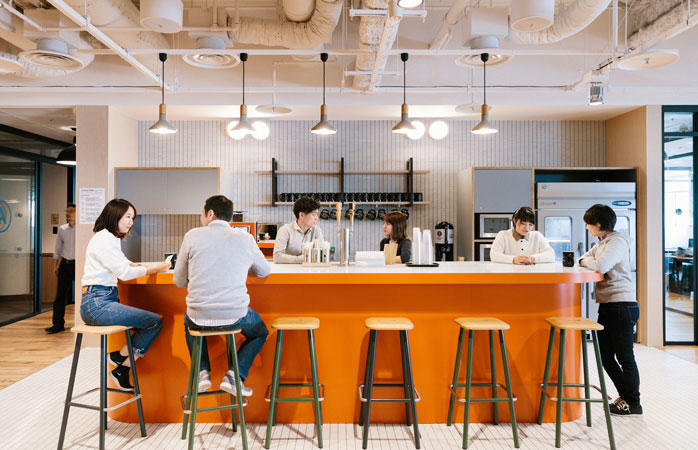 Pantry Counter (WeWork Marunouchi Kitaguchi)
From Shared Spaces to Community Spaces: WeWork's Office Revolution
Supporting Workspace Optimization for More Companies
When setting up an office, there are cases when miscellaneous tasks need to be carried out in addition to a business operator's core work. In the case of start-up or space expansion, it's essential to build the necessary IT infrastructure and arrange the desks, furniture, and fixtures, while cleaning is part of the daily routine. Providing an environment that allows staff to focus as much as possible on their core work is key to creating efficient, high-quality output.
Labor devoted to non-core business is likewise inevitable in the case of a company that needs to move out or relocate from its current office. WeWork is able to provide space within a better environment when a company is prospering and offer greater efficiency and streamlining when it is struggling. In this way, WeWork supports workspace optimization for a wide range of companies.
When WeWork expanded into Japan, it had great expectations regarding the potential of the Japanese economy. And when considering where to open new locations in the future, the keyword is "network." The factors that are considered include proximity to a terminal station, convenience of transportation routes, distance from the nearest station, and liveliness of the neighborhood. With the aim of providing environments that facilitate more flexible work styles in Japan, it's also looking for office locations that will support the recruitment of working mothers.
WeWork's offices feature interior decor that capitalizes on the culture of the country where they are located. They are sometimes decorated with artworks that are quite different from what is typically found in offices, which tend to be rather sterile. The thought is also given to creating office designs that will encourage inspiration and using color schemes that will make meetings more stimulating. The various Japanese locations are also accentuated with local touches--the Ginza Six location, for instance, features traditional horigotatsu tables. Going forward, WeWork will maintain this approach by continuing to develop offices that leverage the location, local culture, and natural environment.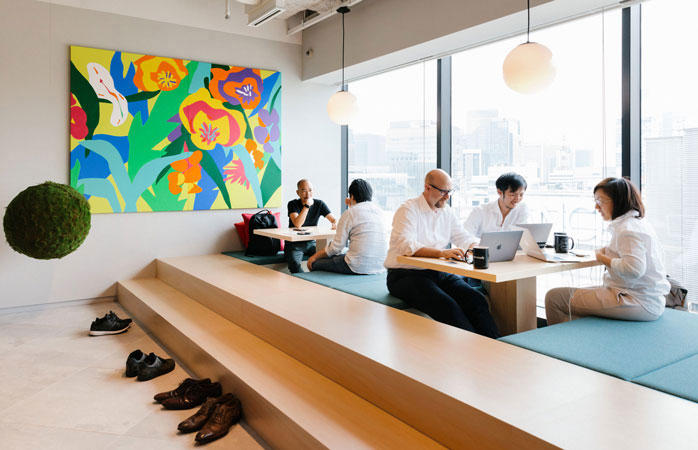 Common Area (Ginza Six)
Finally, we also spoke to a company that has established an office at WeWork to find out why they chose it, what appealed to them, and how they plan to use it. Hopefully, this will prove useful to other companies when choosing an office location in the future.
Tenant's Viewpoint

WeWork's Efficient Use of Space Inspires ReachLocal to Relocate Its Office

Interviewee:
Shinichiro Komatsubara
Manager, Operations Division
ReachLocal Japan
ReachLocal is a specialized digital marketing agency whose strength is supporting local businesses. Its services offer unique advantages that no other company in its field can match:
1. Via the proxy servers it has developed, ReachLocal is able to analyze the search words that trigger inquiries by end-users.
2. By changing the phone numbers displayed on websites, it is able to analyze search words that trigger phone calls. By recording phone calls, it can also verify operator service quality and identify latent customer needs.
3. Based on the results of the above analyses, it manages advertising using a unique system that automatically allocates most of the budget to search words that are highly effective in attracting customers.
Thanks to these advantages, ReachLocal enjoys the support of local businesses with small advertising budgets. Seven years ago, as part of its efforts to expand its services globally, it opened a Japanese division.
ReachLocal Japan's former office occupied one floor of a large building located near Roppongi Station. It stayed there for around five years.
"More than 70 people were using an area of around 200 tsubo. It was very comfortable, but since the lease was coming up for renewal and we were not making effective use of the entire 200 tsubo, we considered relocating the office," says Komatsubara. "At the same time, we were also thinking about developing an office environment that could accommodate more diverse working styles."
It was in May 2018 that the company began searching for a new location in earnest. Given the lease renewal date, the timing was tight.
"Since our sales staff conduct in-person sales activities, transportation accessibility was a priority. We also preferred an office that could house all of our staff on a single floor. Based on those two requirements, Sanko Estate was regularly providing us with information about potential new locations," explains Komatsubara. "However, for various reasons, it became necessary to complete our relocation within a very short time. That was when we received a completely unexpected proposal--relocating to WeWork, which had expanded into Japan the previous year and had been featured widely in the media. Until that point, we had never thought of it as somewhere that we could lease space."
ReachLocal promptly went to visit WeWork's Roppongi and Shimbashi locations. They believed that their employees would be very happy if they worked in one of these offices, ultimately deciding on WeWork Shimbashi because the floor area and move-in date were exactly what they had in mind.
"Thanks to Sanko Estate's brokerage, we were able to quickly arrange the viewings and ensure our conditions were met," says Komatsubara.
The Shimbashi location was one of those conditions and access to public transportation was satisfactory. ReachLocal leased a private office occupying the entire eighth floor. The lease was signed at the end of May. In August, just two months later, they moved in. To relocate in such a short time would have been impossible if they had chosen a standard office building.
The design of the office also required no thought or effort on their part. Since there were already dedicated Internet lines installed, there was no major network construction work, saving both time and money. The fact that relocation could be completed in such a short time was one of the attractions of WeWork. What's more, the 200 tsubo of floor area that the company was using in its former office was cut down to 110 tsubo at the new office. This was made possible by using shared facilities at WeWork such as meeting rooms, lounges, and other common spaces.
"There's a fee for using the meeting rooms, but I think making workers aware that meetings incur a cost has a positive effect. It's changed my own attitude toward meetings," remarks Komatsubara.
The relocation has also eliminated the difficulty of not having space where employees can relax. The office is equipped with meeting rooms for videoconferencing and booths where employees can make phone calls or work quietly. These features have significantly improved operational efficiency.
Along with the superior specifications, the relocation has had the effect of enhancing communication.
"The move has had an effect that extends beyond our company by fostering interaction with people who use WeWork locations. This has helped to generate ideas from different perspectives, which is another major benefit whose value cannot be quantified," notes Komatsubara.
Office Space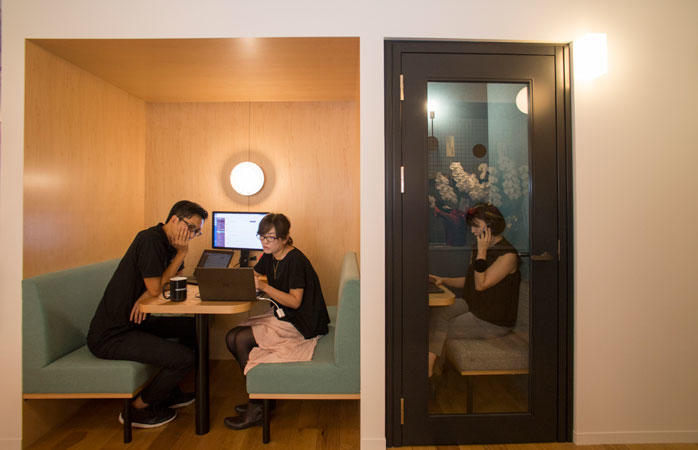 Phone Booth