Toranomon Hills Business Tower
Toranomon Hills Business Tower
*This article is based on the interview conducted in November 2018; some details may differ at the present time.
Accelerating Redevelopment to Establish a Global Business Hub
Mori Building Co., Ltd. completed Toranomon Hills Mori Tower in 2014 to launch the Toranomon area as a new international city and global business center. Currently, there are projects for three new buildings underway in adjacent lots so as to expand and transform Toranomon Hills. Once completed, the company aims for the four-building complex to form the hub of a new community. This interview inquires about the development concept of the whole area and the policy of urban development.

Yasuaki Murata

Team Leader
Urban Planning and Development Division
Development Department Development Unit Ⅱ
Mori Building Co., Ltd.

Setsuo Inahara

Team Leader
Planning Group Strategic Planning Unit
Office Business Department
Mori Building Co., Ltd.
Forming a Magnetic City will Increase Tokyo's International Competitiveness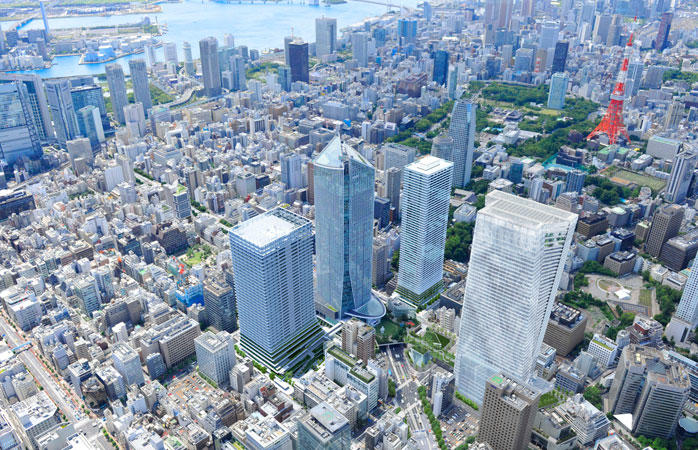 The Mori Memorial Foundation, founded by Mori Building, announced its Global Power City Index 2018 in October 2018. The survey visually assessed the six fields of economy, R&D, cultural interaction, livability, environment and accessibility, then ranked cities by their comprehensive strength.
The survey targeted 44 cities around the globe. This year's top-ranking cities were London, New York and Tokyo, the same as the previous year. The report is created based on the idea that a city's "magnetism" or ability to attract people and corporations in light of international competitiveness among cities is generated by its comprehensive advantages.
"We believe that there is a need to study the on-the-grounds situation of urban development on a global scale in order to bring about attractive urban spaces." (Setsuo Inahara)
The company believes that increasing the international competitiveness of Tokyo as a whole will contribute to Japan as well as help numerous cities overseas.
"The separate and distinct appeals of different areas in Tokyo like Roppongi, Toranomon, Marunouchi and Shibuya provide global companies with a range of choices when establishing a hub in Tokyo, resulting in a more fascinating Tokyo as a whole. (Inahara)
Cities Created with Multi-Use Redevelopment Projects
The company has been conducting large-scale redevelopment projects centering on Minato Ward. ARK Hills in 1986, its first multi-use redevelopment project and the first large-scale redevelopment project by a private company in Japan, was the launching point for the company's "Hills" brand. Subsequent redevelopment projects followed in the area such as Roppongi Hills and Toranomon Hills.
"What's common among these projects is that they're multi-use developments, combining functions not only as offices but as residences, shops, hotels cultural facilities and such." (Yasuaki Murata)
As a 24-hour city, ARK Hills was developed with multi-use functionality in mind and includes offices and residences. Roppongi Hills completed in 2003 embraced the concept of "culture" as a theme and features many aspects surrounding culture in addition to its primary function as a multi-use city.
"There are brand shops and luxury restaurants representing culinary culture on the lower section of the residence building. The top floor of Roppongi Hills Mori Tower, the main tower, features a mix of different functions such as a museum, observation platform, and cultural facility, providing discovery and never-experienced-before excitement." (Murata)
Toranomon Hills Mori Tower, completed in 2014, was a radical project created through public-private partnerships. The plans for constructing buildings and city sections above roads drew much attention when construction initially began. The tower is a multi-use facility with offices with 1,036 tsubo of area per floor as well as conference rooms, residences, shops, hotels, and such.
"There is a merger of business space with residential space. When foreigners employed in overseas companies are to relocate to Japan, in most cases, their families are likely to come as well. It would not be conductive to work worrying that their families were living their lives in a strange land without any community. It would be comforting if members of families could interact within the residential section. Anticipating such situations, we decided that it is important to add residences and other urban functions necessary for living to the business sections. (Murata)
Large-Scale Multi-Use Development Project Driven by a Combination of Factors
It was in April 2016, about two years after the completion of Toranomon Hills Mori Tower, that the new large-scale development of three buildings that would expand and transform the Toranomon area was announced. Three buildings, Toranomon Hills Business Tower, Toranomon Hills Residential Tower (provisional name), and Toranomon Hills Station Tower (provisional name), would be developed to form a new international city and global business center.
Mori Building has pursued redevelopments incorporating the so-called "number buildings" that it developed in the past, and both of these projects were boosted by the combination of various factors, including Tokyo's selection as host of the 2020 Olympic Games, the plan to open a new station on the Tokyo Metro Hibiya Line, and the new establishment of the National Strategic Special Zone system, leading to a rapid increase in momentum for new urban development in the local area.
"Being near the government offices district with many embassies located there, the Toranomon area is host to a great diversity of companies from Japan and abroad and had high potential, but many aged buildings needed functional updates. We, therefore, set out to enhance the magnetism of the area all at once by redeveloping aged office buildings and such including our number of buildings." (Murata)
The city plan of Toranomon Hills Business Tower was determined in summer 2015, the redevelopment association was established in January 2016 and construction began in February 2017. Completion is expected for December 2019. The site area is approximately 10,100 ㎡, the building height is approximately 185 ㎡ with 36 floors above-ground and 3 floors below as well as a three-story penthouse. There will be a bus terminal on the first floor, retail facilities from floors B1 to 3, and an innovation center on the fourth floor, while floors 5 to 36 will be office floors.
"This project has also built an underground pedestrian passage connecting Toranomon Station on the Tokyo Metro Ginza Line and Toranomon Hills Station on the Hibiya Line, as well as a pedestrian deck connecting Toranomon Hills. We believe that the district will become extremely convenient through enhancement of the pedestrian network in conjunction with the development of the area." (Murata)
"At the bus terminal, users will be able to board the BRT (bus rapid transit system) under development by the Tokyo metropolitan government, which is expected to be linked to the Tokyo waterfront. Access by car is thought to improve substantially once Loop Road No. 2 is fully open. Assuming the building is served by Airport Limousine Buses, Haneda Airport will also be readily accessible. It has the potential to serve as a gateway to the Tokyo area." (Inahara)
"The retail facility is planned to be a large area comprising approximately 6,300 m2. The shops will include a high-end supermarket and large restaurant facility to support the area's prosperity. The idea to improve livelihood functions in the Toranomon area was already in mind, so there is no doubt that adding these facilities will boost the area's functionality. (Murata)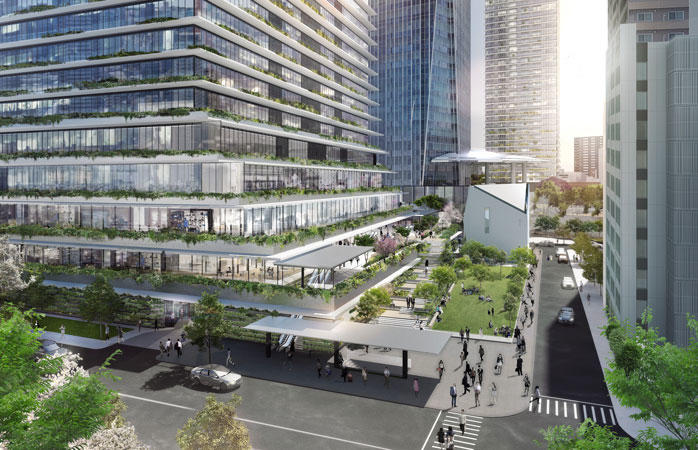 Exterior View of Lower Layers (Image)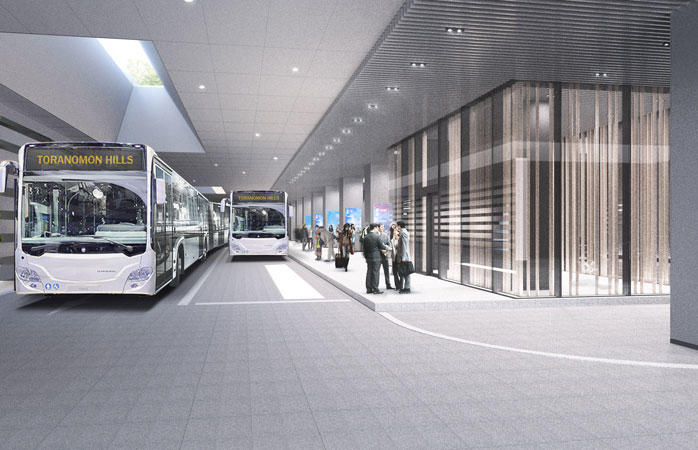 Bus Terminal of approximately 1,000㎡ (Image)
Accelerating Redevelopment to Establish a Global Business Hub
Creating Mechanisms to Spur Innovation
The innovation center that will open on the fourth floor of the business tower is something interesting in a different way to the co-working spaces operated by other companies.
Alongside entrepreneurs, representatives of large companies' new projects, their executives and others with an entrepreneurial spirit from various fields will gather at the innovation center. From big companies, employees selected for generating and nurturing entrepreneurialism or for the purpose of increasing innovation will participate. There will be potential venture capitalists, investors as well as instructing mentors. The aim is to intentionally create a somewhat disorderly environment for the generation of new business opportunities through interaction and nurturing.
"Each section is small so people tend to think that small organizations are targeted, but some of these organizations come from large corporations. And this is how it differs from other co-working spaces. For standard office floors, sales activities are conducted targeting the relocation of headquarter functions of large corporations, but this facility targets venture companies, new divisions of firms and individual departments of companies." (Inahara)
The company is also supporting programs promoting innovation at places such as Toranomon Hills Mori Tower which was completed earlier. One example is the event called Thursday Gathering whose purpose is to bring about innovation through lectures and workshops of a variety of innovators.
The host company called Venture Cafe is said to operate in five cities around the world and was looking for a venue in Tokyo. They selected Toranomon Hills Cafe located on the second floor of the building as the most suitable place for the generation of innovation. Now, many people gather on Thursday every week, just as the company hoped, and enjoy the vibrant exchange between innovators." (Inahara)
People are coming to the cafe to enjoy conversations and deepen relationships at the current stage, and the buds of new businesses are starting to come out. An even larger movement is anticipated for the future.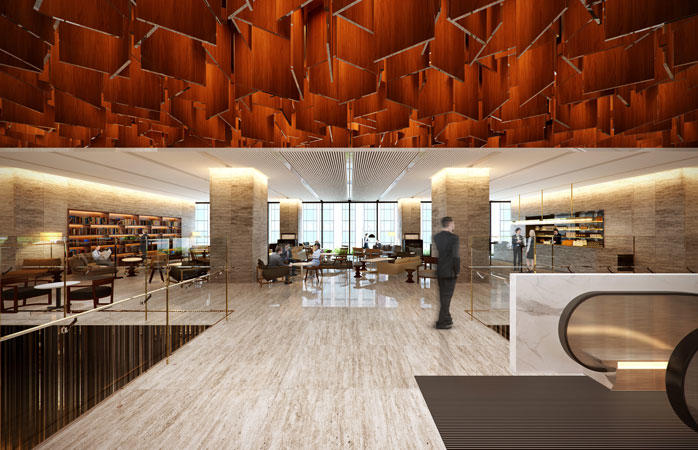 Innovation Center (Image)
Forming a Community That Combines Diverse Elements
The next building is Toranomon Hills Residential Tower (provisional name), tentatively scheduled for completion in January 2021. At about 220 meters high, with 54 aboveground floors, this building is expected to become Japan's tallest residential building. It will house around 550 residential units, along with amenities such as a members-only spa, childcare support facilities and service apartments for long-term business trips. The aim is to create an appealing community in the Toranomon area that meets a variety of needs.
After that, Toranomon Hills Station Tower (provisional name) is scheduled for completion in February 2023. This project will be integrated with Toranomon Hills Station on the Tokyo Metro Hibiya Line. The mixed-use building will house offices, a hotel, and commercial facilities, along with a business promotion center on the top floor with an aim of becoming a hub of new business and innovation accessible to large companies, startups, entrepreneurs and the public.
"The building will have excellent accessibility since it will stand on top of a subway station. The business dispatch hub on the top floor is scheduled to be an information base at which new products can be announced and conferences, trade shows and even casual parties can be held for sending messages to all across the world. We want to be able to respond sufficiently to the needs of IT firms, venture companies and global corporations." (Murata)
With the addition of these three buildings, Toranomon Hills will expand to a total site area of around 7.5 hectares, around 240,000 tsubo [793,400 ㎡] of total floor area (including 90,000 tsubo [297,500 ㎡] of office space and 8,000 tsubo [26,500 ㎡] of commercial space), and 4,500 tsubo [14,900 ㎡] of green space. They will drive Toranomon's evolution into a new international urban hub and global business center performing a wide range of functions.
Promoting the Creation of Urban Environments with Personal and Free Interactions
The Shintora-Dori Area Management Council was inaugurated to further enhance the appeal of the Toranomon Area and its surroundings. The council is endeavoring to generate prosperity in roadside areas.
"Shintora-Dori is the name of the surface road above Kanni-Dori Street (between Toranomon and Shinbashi). We decided on the name after collecting ideas mainly from local residents." (Murata)
Earlier efforts for the roadside areas include the establishment of an open cafe and cleaning activities. Many events have been held as well such as the Rio Olympic Medalist's Parade, the Tohoku Rokkon Festival Parade bringing together the chief festivals of six northeastern prefectures, the Tabisuru Shintora Market presenting the appeal of areas across Japan using the roadside area, and the Tokyo Mural Project in which large works of art are created on the walls of buildings facing the street.
Next is Shintora-Dori CORE, completed along Shintora-Dori Street in September 2018. This is positioned as the first project of urban redevelopment for creating a lively atmosphere on the roadside area. On the first and second floors are retail facilities that will be bustling spaces of interaction, while an incubation office has been established on the third floor.
"In the entire area including the roadside area, we are aiming to create an urban community serving as a central area for new business in Japan. Our goal is a major evolution as a futuristic business hub incorporating aspects of business as well as those of living." (Inahara)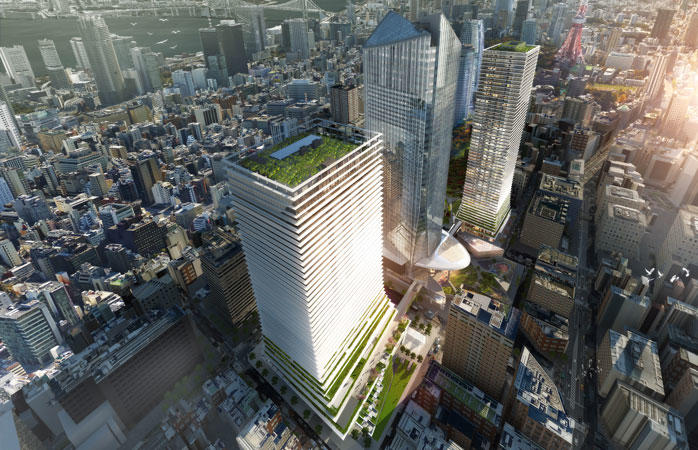 Exterior View (Image)